​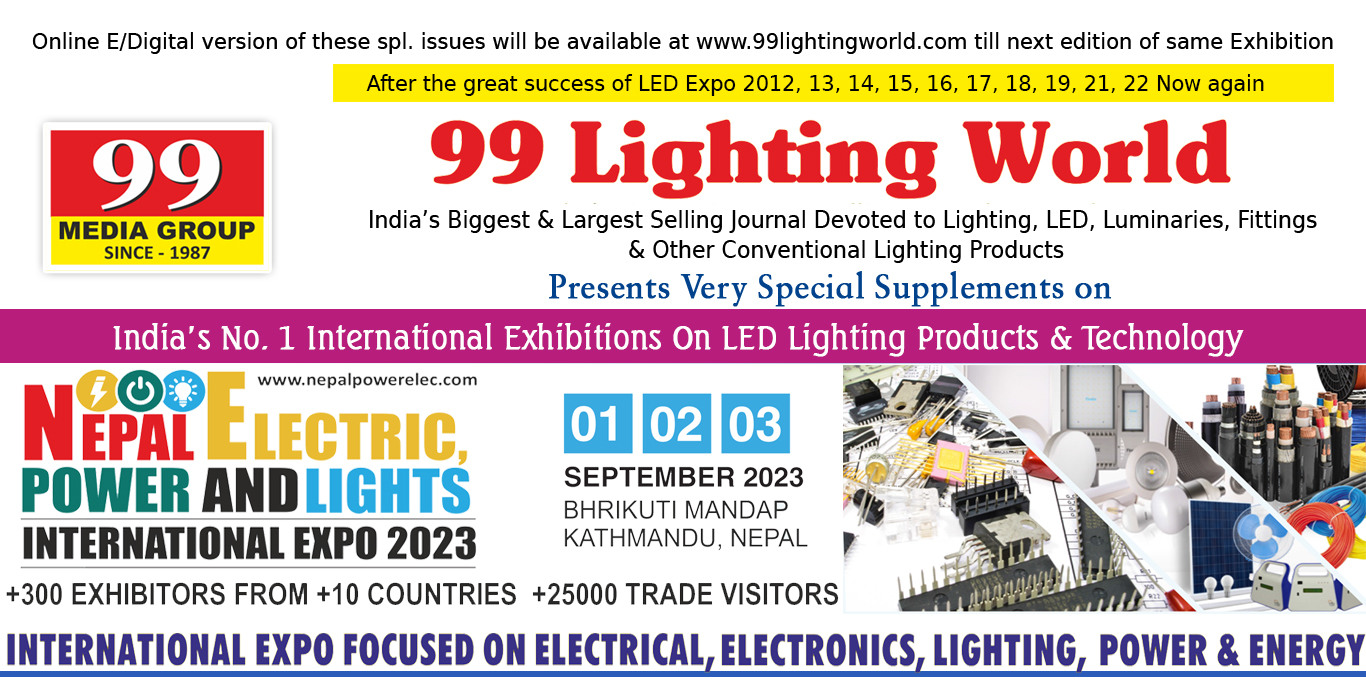 About Show
Nepal Electric, Power & Light Expo is one of the leading show focused on Electronics, Lightning, Power, Energy & Allied Industries. It has envisaged to build a great knowledge sharing, networking, and sourcing platform for the passionate and enthusias􀆟c professionals of the Electrical industry to work for the growth and betterment of the Electrical industry in Nepal It brings together the largest players in the Electrical industry to showcase their latest technologies and innovations. It is a must-visit show of the year, an ideal platform that will not only give you technical insights about the fastest and most rapidly growing industry but also showcase the emerging trends and technologies.

List of Some Products at Display in Nepal Electric Power and Lights International Expo 2023
AC/DC Power Supplies
ACB, MCB, MCCB, RCCB, Stabilizers etc.
Adhesive Tapes & Non Adhesive Tapes
All Types Electrical Materials
All Types Electrical Accessories
All Types Electrical Machines
Aluminium Die Cast Products
Audio/Video Products/ Equipment's
Bakelite Products
Batteries (All Types)
Blocks/Modules
Boilers (All)
Bopp/Polyester Product/Films.
Brass Electrical Accessories, Etc.
Cable Related Products/ Accessories
Cable (All Types)
Cable Accessories & Conductors
Cable Connectors
Cable Earthing Equipments & Materials
Cable Glands & Wiring Accessories
Cable Making Machines
Cable Terminal/ Lugs & Socket
Cable Trays
Capacitors/Filters
Casting & Forging
Ceramic Products
Circuit Boards
Circuit Breakers
Coil Winding Machines
Communication Equipments
Conductors, Insulators & Allied Products/Accessories
Control Panels & Allied Products/Accessories
Copper & Aluminum Winding Wires
Copper Bars/Rods/Profiles/Strips etc.
Copper Products/ Accessories/Materials etc.
Copper/ Wire/Insulation & Materials
Design & Consultancy
Diesel/ Gas/ Silent Generators & Spares
Digital Meters (All Types)
Distribution Boards/ Busbar etc.
Door Bells, Night Lamps, Spines, Extension Cord
Earthing Related Products/Equipment/Material
Electric Home Appliances
Electric Locomotive Products/Materials/Machines
Electric Motors (All Types)
Electric Railway Equipments& Materials
Electric Winding Products
Electrical Assemblies
Electrical Hardware Fittings
Electrical Insulation Materials
Electrical Insulation Tapes
Electrical Plastic Products
Electrical Poles/Towers & Allied Products
Electrical Profiles
Electricity Board Equipments & Materials
Electro Stampings
Electronic Component & Equip. (All Types)
Energy Instruments
Energy Saving Equipments
Environmental Equipments
Exhaust Fan, Ceiling Fans & Allied Products
Engineering Projects
Ferrous, Non-Ferrous Metal & Materials
Fibre Glass Products & Material
Forming & Bending Machines
Frequency Equipments
Frp Products/Materials
Heating Equipments
Home Automation Products
Industrial Control & Automation Systems
Industrial Automation Products
Insulators & Insulating Materials
Instruments-Sensing, Measuring, Indicating, Testing etc.
Lamps, Bulb, CFL etc.
Led & Related Products (All Types)
Lifting & Pulling Equipments
Lighting & Luminaries
Lighting & Lighting Accessories
Magnet & Allied Products
Meters (All Types)
Mobile Phone Accessories
Mobile Phone Chargers
Motors & Generators
Nut/Bolts/ Spring/Washer/Rivets etc.
Panel Meters (All Types)
PCB (Printed Circuit Boards)
Plugs & Sockets
Pollution Control Equipments
Power Equipments
Power System Protection Products
Power Distribution Product & Materials
Profile Projectors/Tool Scan etc.
Pumps/ Motors/Hydro Equipment/Cts/Pts
Rectifiers
Rubber Products & Materials
Safety Equipments
Safety Shoes/Uniforms/Gloves etc.
Sealing Material &Equipments
Sensors (All Types)
Signalling Equipments
Solar Products (All types)
Special Purpose Machines
Sub Station Equipments& Materials
Switch Gears & Allied Products/Accessories
Switches (All Types)
Switches/Sockets/Relays
Switchgear & Control gear
Telecom Equipments
Temperature Control Equipments & Materials
Testing & Measuring Equipments
Thermocouples
Timers/Counters etc.
Transformer & Allied Products/Accessories
Transformer (Power/Current/Distribution)
Transformer Oil
Transmission Line Products, Material & Accessories
Turbine Meters (All Types)
UPS, Inverter, Battery etc.
Welding Machines, Equipment's & Accessories
Winding Machines (All Types)
Wire Related Product/ Machines
Wires (All Types)
Wiring Harness Services
Civil/Mechanical Contracts
Electric Reparing Works (All Types)
Electrical Fabrications Works (All Types)
Electrical Project Consultancy
Testing & Certification Of Electrical Products/Material
Turnkey Projects/ Contracts

Your advt. in our Nepal Electric Power And Lights International Expo 2023 Spls.
gives you different ways responses / enquiries from all over India / World
Free distribution of these spl. issues at exhibitions gives you a good milage/ enquiries of your products/ services, dealership, vendor & Govt. / Foreign enquiries at your doorstep.
These free distribution take place throughout exhibitions from 10am to 6pm.
Online enquiries through E-version (which is just a mini B2B portal) of these exhibition spls.
E-version of these spl. issues will be available at www.99lightingworld.com till next edition of same exhibition.
These e-versions will be free for all over world (24X7) till next edition of same exhibition.
Product/ Service catalogue of advertiser will be given at our B2B portal 99business.com for next one year.
Online responses/ enquiries through our B2B portal 99business.com
Unique enquiry panel will be given to every advertiser for 1 Years (with password & user ID) and much more to promote your company and products....
We Have Proved Every Time That We Are No. 1 in Free Distribution of Exhibition Specials in Exhibitions in India (Since 1987)
UNIQUE ONLINE ENQUIRY PANEL TO EVERY ADVERTISER:
99 Business Media Group provides a Unique enquiry panel to its every advertiser. For that, one password & User ID provided to every advertiser. We are the first company in India to provide such enquiry panel to every advertiser. Advertiser can view this panel on PC, Laptop, Tab, Smartphone etc.
Features of this enquiry panel :
(A) Advertiser can view enquiries / responses which send by us to advertiser in this enquiry panel.
(B) Validity of this enquiry panel is min. 1 year.
(C) Advertiser can edit their profile in this enquiry panel.
(D) This enquiry panel will be available online (24X7) with unique URL (which provided by us).
For More Details / Advt. Contact:
Call: +91-7011019150
Email: media@99businessmedia.com
Or
Enquiry Now
We are interested for Advt. in Nepal Electric Power and Lights International Expo 2023 Spl. Issue