Pyrotech Electronics Pvt. Ltd.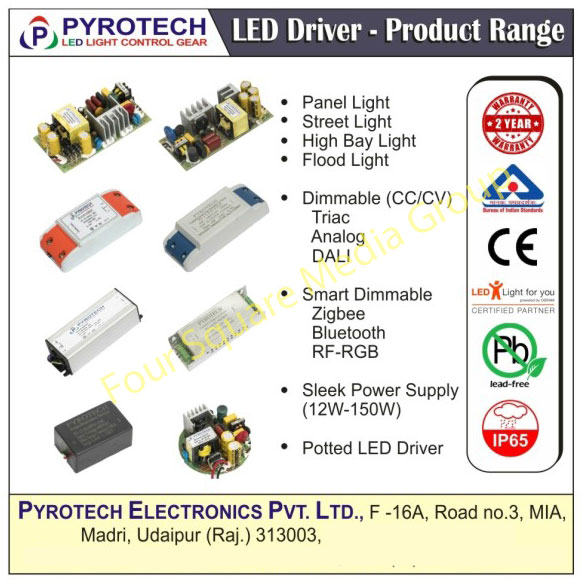 Pyrotech Electronics Pvt. Ltd.
Deals In-
Solar Charger Controllers, MPPT Solar Charge Controllers, Inbuilt Driver Solar Charger Controllers, Surge Protection Devices, Led Drivers, Dimmable Solutions, Ceiling Mount Occupancy Sensors, Flush Mount Occupancy Sensors, Wall Mount Occupancy Sensors, Remote Sensors, PIR Sensors, Microwave Occupancy Sensors, Occupancy Sensor with Day Light Linked Dimming, PIR Occupancy Sensor, Smoke Sensor, Heat Sensor, Panel Light Driver, Street Light Driver, High Bay Light Driver, Flood Light Driver, CC Dimmable Drivers, CV Dimmable Drivers, Smart Dimmable Drivers, Constant Voltage Power Supply, Presene Sensors, Fire Alarm Systems, Sounder, MCP, Control Panels, Potted Led Drivers, Sleek Power Supply as an active Manufacturer, Supplier, Dealer, Distributor, Trader and Seller etc. (*Importer/Exporter/Service Provider).
Address- Head Office: F-16A, Road No 3, M.I.A Madri Udaipur 313003 Rajasthan