​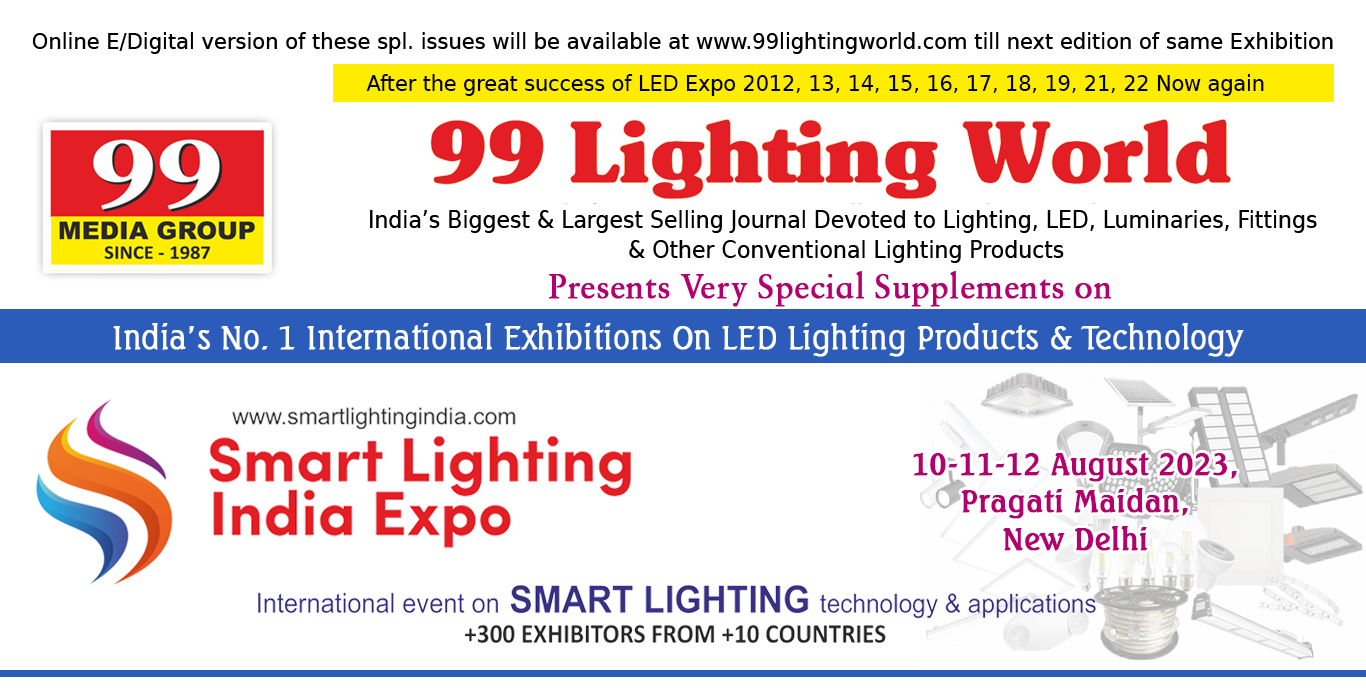 About SLIE 2023
The Smart Lighting India Expo is a vibrant networking and sourcing platform for companies from across the entire Lighting industry to showcase their expertise and services to investors and buyers looking to do business in the LED Lighting and Smart Lighting (IoT-enabled systems) industry.
Taking place from 10-12 August 2023 at the Pragati Maidan, New Delhi, the expo will attract 10,000+ industry professionals and buyers looking for innovation, knowledge exchange, and networking.
The Smart Lighting India Expo offers a unique opportunity to maximize brand exposure to the right audience. The show provides a unique platform to:
What to expect at SLIE 2023?

India's foremost expo for LED lighting and Smart solutions

25,000+ buyers attending from across India and South Asia

10+ Country pavilions showcasing innovative solutions

Biggest dedicated expo ever with 10,000+ sqm exhibition space

400+ exhibitors with 500+ represented companies
PRODUCT DISPLAY
Indoor LED Lighting
• Interior Lighting • Public Lighting • Domestic Lighting • Commercial Lighting • Retail Lighting • Decorative Lighting • Residential Lighting • Architecture Lighting • Project Lighting • Casinos & Disco Lighting • Office Lighting • Special & Stages Lighting • LED Bulbs • Ceiling Lights • Down Lights • Sustainable & Renewable Lighting
Outdoor Lighting
• Architecture Lighting • Landscape Lighting • Garden Lights • Monument Lighting • Street Lighting • Tunnel Lighting • Underwater Lighting • Fountains Bollards • Pool Lighting • Traffic Signal • Signage's • Solar & Renewable Street Lighting
Smart Lighting & Solutions (IoT-enabled systems)
Imaging devices, applied products, inspection / measuring / repairing, LED manufacturing equipment / devices, SMD mounting machines, solid-state lighting / equipment
LED applications & lighting
• Lighting Control Systems • Home Appliances Control Systems • Emergency Lighting Systems • Security Control Systems • LED Spotlights • Human Centric Lights • Conference Room Automation & Solutions • Pool Lighting Systems • App-based Home Security & Monitoring • Smart Automation, Sensors & Many Many More
Features at the event
Live Demos Widest choice of products, accessories and technology across the spectrum on display.
Product Launches Launch your latest technologies and innovations to a new audience in the lighting industry.
Specialised Industry Zones Fostering digital transformation, SLIE to host dedicated Industry Zones, enabling new businesses to highlight innovations.
B2B Meetings A great avenue for companies to directly interact with their target audience

Your advt. in our exhibition spls.
gives you different ways responses / enquiries from all over India / World
Free distribution of these spl. issues at exhibitions gives you a good milage/ enquiries of your products/ services, dealership, vendor & Govt. / Foreign enquiries at your doorstep.
These free distribution take place throughout exhibitions from 10am to 6pm.
Online enquiries through E-version (which is just a mini B2B portal) of these exhibition spls.
E-version of these spl. issues will be available at www.99lightingworld.com till next edition of same exhibition.
These e-versions will be free for all over world (24X7) till next edition of same exhibition.
Product/ Service catalogue of advertiser will be given at our B2B portal 99business.com for next one year.
Online responses/ enquiries through our B2B portal 99business.com
Unique enquiry panel will be given to every advertiser for 1 Years (with password & user ID) and much more to promote your company and products....
We Have Proved Every Time That We Are No. 1 in Free Distribution of Exhibition Specials in Exhibitions in India (Since 1987)
UNIQUE ONLINE ENQUIRY PANEL TO EVERY ADVERTISER:
99 Business Media Group provides a Unique enquiry panel to its every advertiser. For that, one password & User ID provided to every advertiser. We are the first company in India to provide such enquiry panel to every advertiser. Advertiser can view this panel on PC, Laptop, Tab, Smartphone etc.
Features of this enquiry panel :
(A) Advertiser can view enquiries / responses which send by us to advertiser in this enquiry panel.
(B) Validity of this enquiry panel is min. 1 year.
(C) Advertiser can edit their profile in this enquiry panel.
(D) This enquiry panel will be available online (24X7) with unique URL (which provided by us).